Digital Mi'kmaq Stories Now Available for Schools!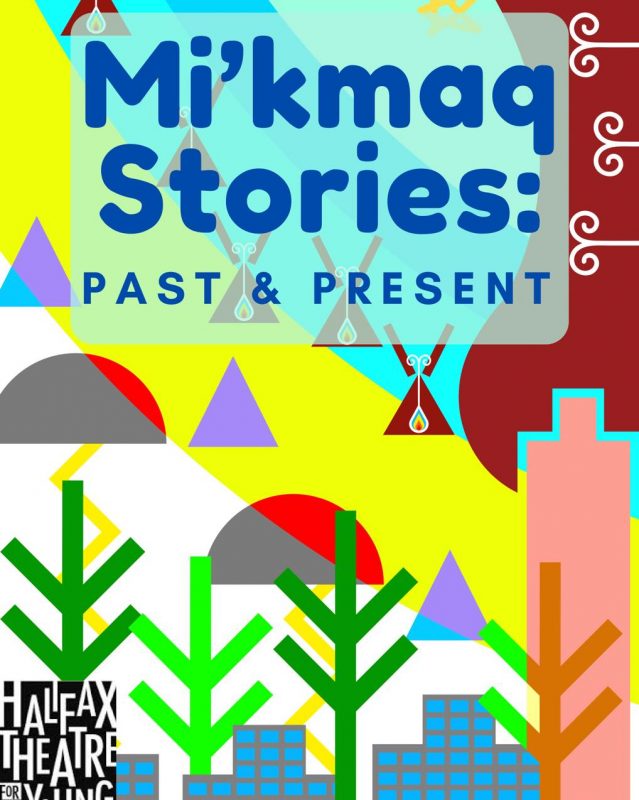 We are delighted to announce that the digital version of Mi'kmaq Stories: Past and Present, co-directed by Catherine Ann Martin and Tessa Mendel, and edited by Ann Verrall, is now ready for booking. With added material including interviews, archival photos, images and music by Mi'kmaq artists including Dozay Christmas, Gerald Gloade, Loretta Gould, Seth Doucette, Samqwan Boyz, Richard Poulette,Dr. Bernie Francis and Alan Syliboy this enhanced version is must-see viewing for all students.

Schools can book this digital presentation for Treaty Day and throughout Mi'kmaq History Month September 29 – October 31 through Perform Nova Scotia: https://performns.ca/mikmaq-stories-past-and-present/#more-2337

New and traditional stories, written & created by Trevor Gould and Catherine Anne Martin with addition writing by Rita Joe, Shalan Joudry, Rebecca Thomas
Need additional information about curriculum outcomes or any other questions? Email info@halifaxtheatreforyoungpeople.com
Cast
Brady Googoo
Laura Fleet
Noel Julian
Anna Nibby-Woods
Shelly Woods
Film Production
Filmed at Mermaid Theatre of Nova Scotia
Director of photography: Danny Everson
Sound recordist & mixer: Kevin Olson
Production Assistant: Alex Cubbon
Theatre Production
Performed and filmed live at Ships Company Theatre
Art/ Co-design: Jordan Bennett
Co-design: Katrin Whitehead
Stage management: Laurie Fleet
Carpenter: James Woodhouse
Camera: Aaron Collier
Newcomers: Stories from Immigrant and Refugee Children
Newcomers: Stories from Immigrant and Refugee Children will feature short plays or monologues by ten Immigrant and Refugee playwrights and artists living across the Atlantic Provinces. This project is currently being developed in partnership with Playwrights Atlantic Resource Centre (PARC) in order to offer extensive dramaturgical support.  Based on their own experiences, as well as material informed by interviews held with Newcomer children and youth, this show will combine narratives of arriving in Canada from various countries, backgrounds and circumstances, offering a unique and diverse perspective on being a Newcomer to Atlantic Canada. The production will take place at Pier 21, stay tuned for dates!